Now that I have spent two full weeks back in "the real world", I feel like I can really reflect on my time spent on maternity leave. Overall, my time off was wonderful. Ten weeks spent lounging, sleeping, and getting to know my baby boy. How could it not be wonderful!?! Have I mentioned that he is such an easy baby? (knock on wood)
It felt a bit befuddled during the first few weeks. It was tough still trying to figure things out with visitors coming and going. I found that because I didn't have time to nest before Will was born, I was nesting after the fact. The first day home from the hospital, I went into crazy mode opening everything in the nursery that my husband and in-laws hadn't gotten to while we were still in the hospital. I washed load after load of Will's clothing, blankets, sheets, etc. I organized his closet and dresser. I sterilized bottles and reorganized a kitchen cabinet to accommodate all things baby. These were all things that I had planned to do in my last month of pregnancy. At that point, I craved order, structure, a routine, a schedule. I was constantly evaluating my everyday actions trying to improve upon them. Constantly thinking what I could do differently the next day to make it even better than the present day. After the first month passed, Will and I finally got into a groove and I really liked the way that our days were going. This is [generally] how we spent them:
7 am: I woke up when Matt left for work, used the bathroom and minimally groomed myself, put the dogs out to stretch and potty, transferred a load of clothing from the washer to dryer and/or carried a dry load to the living room for folding, woke Will up for the morning,
changed his diaper and outfit if needed and brought him downstairs, made coffee and warmed up my breakfast and made a bottle for Will,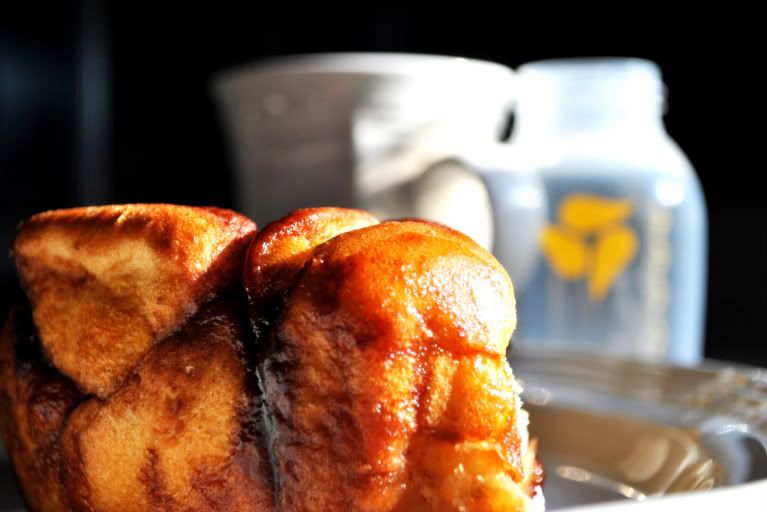 let the dogs back in, sat down with Will for feeding while catching up on some e-mails and blogging, burped Will, put him in his swing for 30 minutes while I pumped (Will has issues with spitting up, so even if he burps, he still has to lay on an incline for at least 30 minutes before he can be laid down flat.). After pumping, I placed Will on his activity mat while I washed any bottles/dishes from overnight,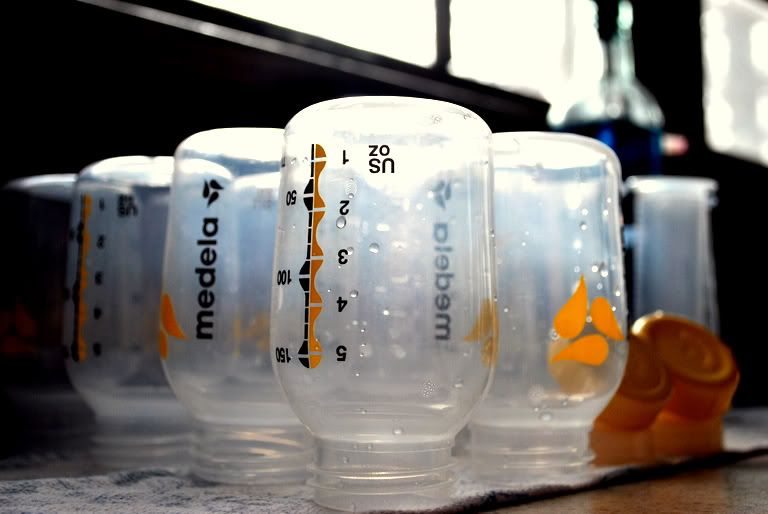 placed Will on his stomach for tummy time while I folded laundry,
We headed back upstairs for bath time,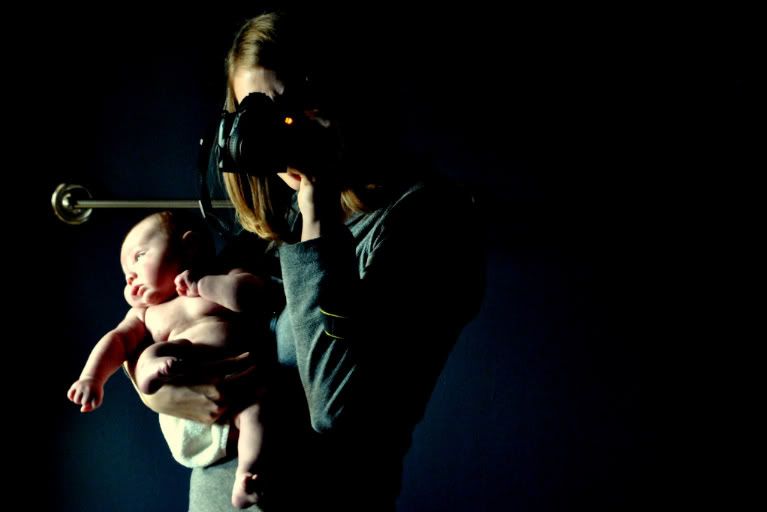 then read to Will as he was dozing off,
put Will down for a morning nap,
While Will was napping, I made phone calls, blogged, and caught up on e-mails. Mason let me know when Will was up from his nap.
After changing, feeding, and burping, Will sat upright while watching me make lunch.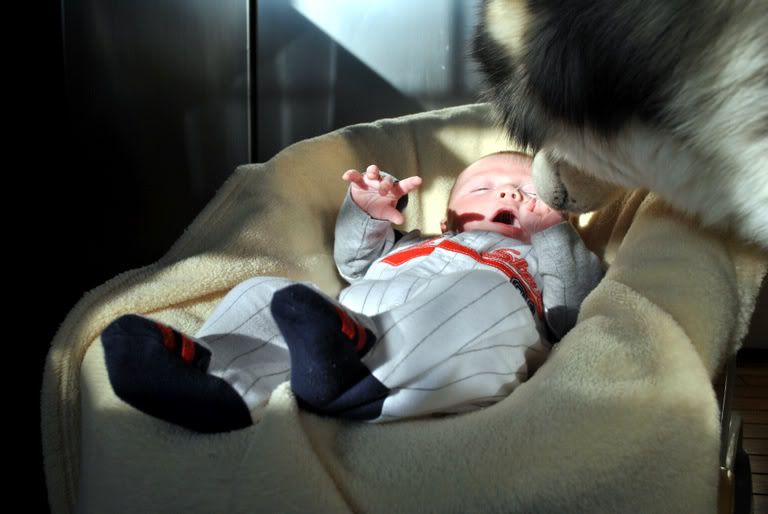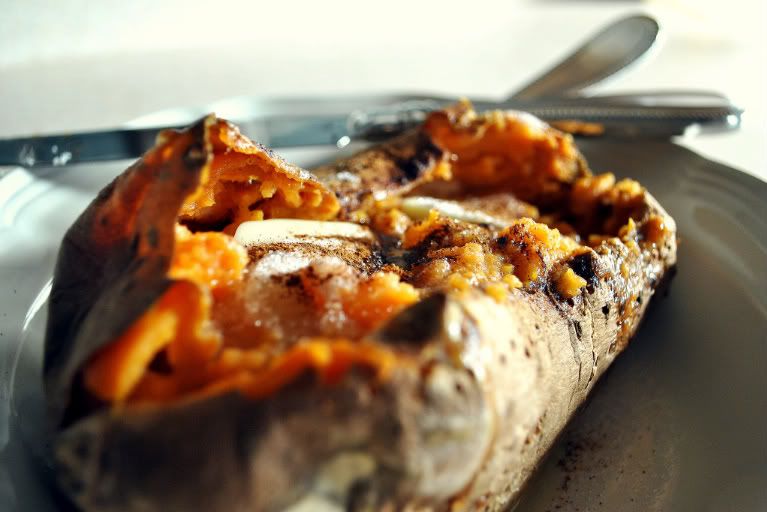 After lunch, I put will on his activity mat for activity time.
I would love to say that while he was working out on his activity mat, I was also working out to lose this baby weight, but that never happened. I usually spent this time blogging and talking to Matt on the phone during his lunch break.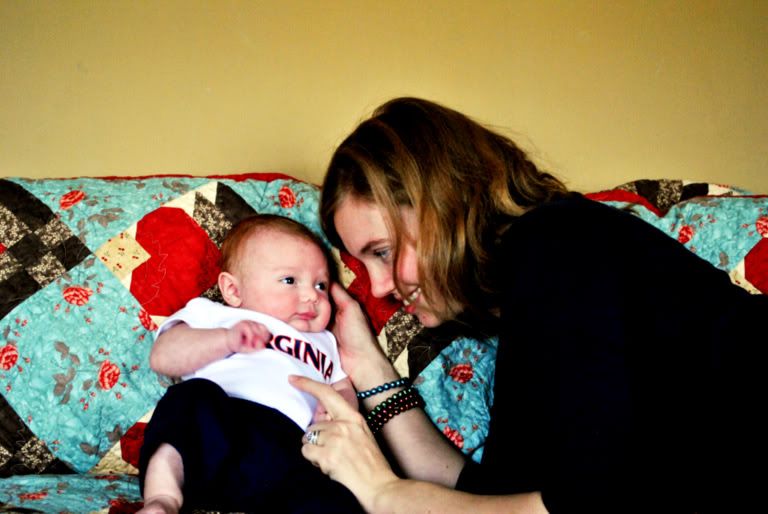 We spent some more time playing, reading, lounging, and interacting until Will fell asleep for his afternoon nap. I woke him for changing, feeding, and burping and he was ready for daddy time when Matt got home. Some nights we went out to meet Matt for dinner.
6 pm: During daddy time, I pumped, showered, and did any laundry/dishes/cleaning/tidying up needed. We watched television and hung out by the fire until it was time for bed.
9 pm: After changing, feeding, and burping, we laid down for bed.
Even after ten weeks, there are still things I haven't gotten to that I had planned in my last month of pregnancy - like purchasing anything to hang on the nursery walls, hanging his curtains, and finding a table for the lamp that now sits on the floor. His nursery is functional, just not complete. I will post on here once it is complete - promise!
Stay tuned for a full documentation of our days now!